Marble Brick
From The Minery
Marble Brick
| | |
| --- | --- |
| Type | Solid Block |
| Requirements | None |
| Physics | No |
| Transparency | No |
| Luminance | No |
| Blast Resistance | |
| Tool | None |
| Renewable | No |
| Stackable | Yes (64) |
| First Appearance | |
Marble brick is a building material that can be made from marble. Marble bricks are slightly stronger than stone bricks, and can be used to create a variety of structures. Players often combine these with Marble Columns to create interesting structures.
Crafting
Marble brick can be made from 4 Marble Blocks arranged in a square.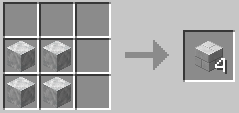 As a Crafting Ingredient
Marble brick can be crafted into Marble Brick Slabs by lining three up on a crafting table.